Did Wendy Williams & Kevin Hunter Present A United Front At Son's Hearing?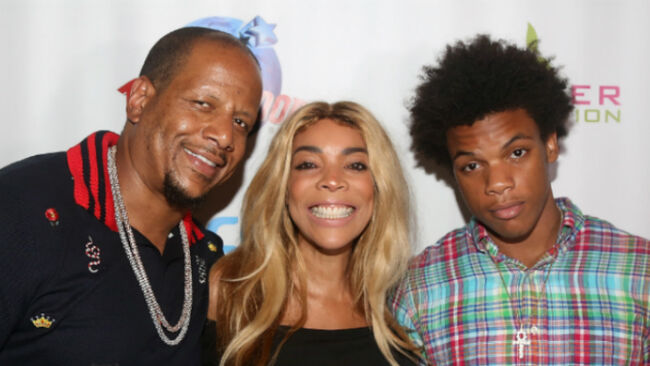 Did they call a truce? That is the question!
Despite reports that claimed Wendy Williams and her estranged husband Kevin Hunter planned on "presenting a united front" at their son's assault arraignment on Tuesday (June 25), the feuding soon-to-be exes did not even show up in court.
According to TMZ, Kevin Jr. attended his court hearing only backed by his lawyer as "there was a change of plans." The entertainment site previously reported the talk show host, along with Kevin Sr. were planning to "present a united front, supporting their 18-year-old son, who allegedly punched his dad in the nose during a heated argument."
Instead, Kevin showed up in court with only his lawyer. He entered a not guilty plea and the prosecutor asked for more time so he'd have more time to review the case, TMZ reports. The prosecutor reportedly said he wanted to "review factors in the case" and thought it would be resolved at the next hearing. As previously, reported Kevin Sr. said he did not want to press charges against his son. So, it seems like the case is heading toward a dismissal or plea bargain.
The alleged fight between the father and son went down last month, a month after Wendy filed for divorce from Kevin Sr. after nearly 22 years of marriage. Sources close to Kevin Sr. told TMZ at the time that the fight went down after Kevin told his son he needed to stop taking his mothers handouts and work hard on his own to make something of himself. However, other sources told the site the two got into an argument over Kevin's demand for spousal support. Kevin Sr. reportedly claimed Wendy was "brainwashing" Kevin Jr., turning their son against him. Kevin Sr.'s alleged statement reportedly led to the two getting into a verbal dispute that eventually turned physical when Kevin Sr. allegedly put his son in a headlock. Kevin Jr. reportedly punched his father in the nose to break the hold. He was later arrested.
As fans know, Wendy filed for divorce from Kevin last month — a decision that was reportedly sparked by Kevin's alleged longtime mistress having his child in March. Since then, the former couple's divorce drama has played out in the media. Earlier this month, stepped out with a much younger new flame and claimed her husband only used her as a "show pony."
Photo: Getty Images