CEDRIC RICHMOND (CONGRESSMAN) APOLOGIZES
"I apologize to Kelly Anne Conway and everyone who has found my comments to be offensive."
During the Washington Press Club Foundation's congressional dinner on Wednesday, Richmond joked about the viral photo of Conway perched on couch in the Oval Office.
"I really just want to know what was going on [in the Conway photo], because I won't tell anybody and you can just explain to me that circumstance, because she really looked to me familiar in that position. Don't answer – and I don't want you to refer back to the 1990s," Richmond said, addressing his joke to Sen. Tim Scott (R-S.C.) who had made remarks just prior to Richmond's.
OTHER NEWS YOU MAY HAVE MISSED: TAVIS SMILEY EXPOSED BY 'SENIOR PRODUCER' AS A MISOGYNIST WHO HAS CONTEMPT FOR WHITE PEOPLE IN SCATHING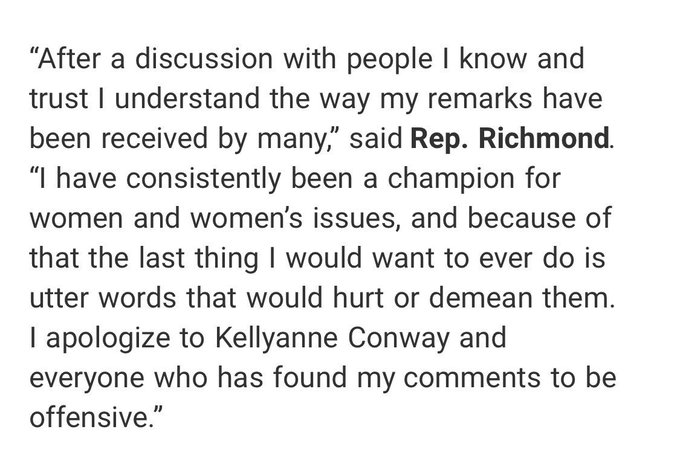 Follow

Lissandra Villa

✔

@LissandraVilla

Inbox: Statement from Rep. Cedric Richmond: "I apologize to Kellyanne Conway and everyone who has found my comments to be offensive."

7:41 PM - 5 Mar 2017
The day after his comment, following backlash that included the Louisiana GOP calling Richmond's comment "sexism at its worse," the lawmaker attempted to clarify his remarks.
"Since some people have interpreted my joke to mean something that it didn't I think it is important to clarify what I meant, " he said in a statement Thursday. "Where I grew up saying that someone is looking or acting 'familiar' simply means that they are behaving too comfortably."
"I decided to use that joke due to the large social media backlash over her inappropriate posture considering there were more than 60 HBCU Presidents in the room," he added.

Adrian Long
Want to know more about Adrian Long? Get their official bio, social pages & articles on 98.5 WYLD!
Read more